Are you looking for a way to boot your PC or laptop with an
Operating
System
like Ubuntu or Win XP or Windows 7 installed on a
pen
drive
, only to find out that your PC/
laptop
does not support USB booting?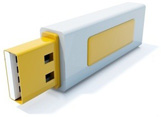 Some age old
motherboards
and laptops does not support USB boot. But with a small software application called Plop boot manager you can add USB boot support for such PCs.
Steps to boot your PC/laptop from a pen drive with the help of Plop boot manager:
Download Plop boot manager from here and extract the archive.
Burn the extracted image (plpbt.iso) into a CD with the help of a CD burning

software

.
Insert the bootable disc you just created into your CD/DVD drive and restart your PC.
Your PC should automatically boot from this CD. (If it doesn't, goto your BIOS boot settings and change the boot order to give CD/DVD drive the first preference)
Now when the PC boots from CD, you can see a user screen from where you can select the boot device. Now you can select your USB drive from the list.